Popis:

CNC Collet Nut

RetroArms collet nut for Hop-Up chambers. This collet nut is manufactured from aircraft dural EN AW 7075, what have strength of steel and weigth of aluminium, so it is perferect for high performance builds. Collet nut is milled on CNC milling machine and has protective anodizing of 5µm red color (0,005 mm).

We implemented our collet nut into the every RetroArms Hop-Up chambers, manufactured till end of 2016. It is designed only for RetroArms Hop-Up chambers.

The benefits of using collet nut is mostly for perfect seal and connection of inner barrel with chamber. The barrel won't move, even when your gun has malfunction or when you are adjusting hop-up.
Collet nut technology
In our Hop-Up chambers is milled special screw thread. The collet nut has conical thread ended with bevel and it is lengthwise cutted.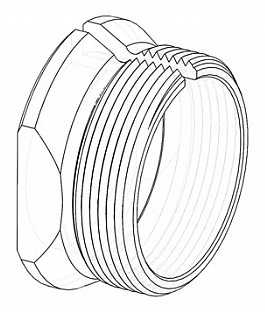 Instalation is simple. Put the inner barrel with bucking into the chamber and lock inner barrel with c-clip lock. Then screw the collet nut into the chember (don't use rude force).
Screw it by hand till it is possible. After that, hold by one hand c-clip lock (for non-overturning) and with second hand use key (10 mm) to screw collet nut. The connection and sealing is provided by collet, what will hold inner barrel firmly.
Don't use rude force for screwing! Collet nut has big clamping force, so using rude force could damage it. Screw it carefuly.
If you screw collet nut too much, the c-clip lock could jump-off and inner barrel would overturn. Because of that, your gun would start to shoot to the side. So be careful with screwing the collet nut.
Inner barrel is not damaged or moved down when screwing the collet nut.
Package include    
You will need 10mm key for instalation.